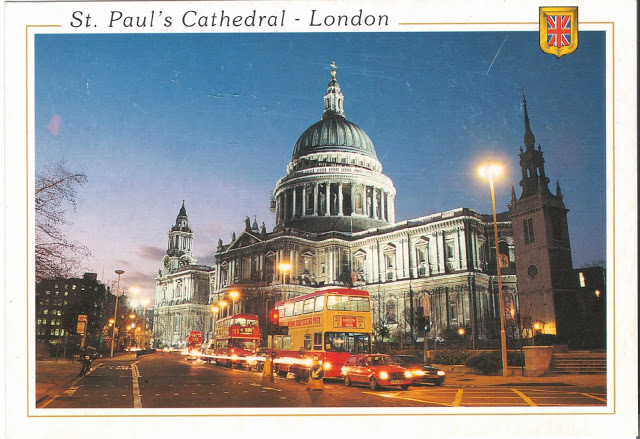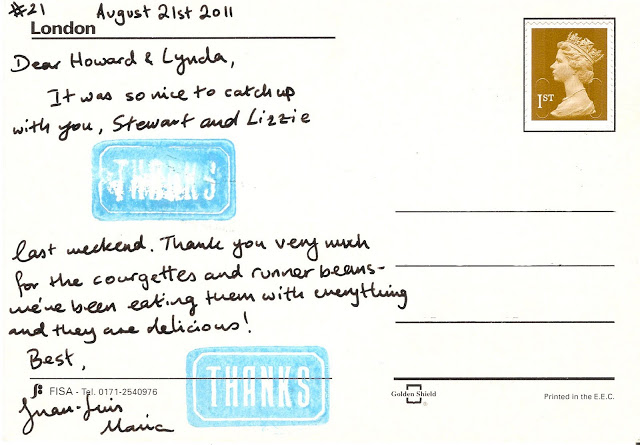 sent from: Nightingale Lane, London UK. destination: Burnt Common, Ripley, UK
     I have no idea when I obtained this card, but if forced to speculate I would guess sometime in 1996, when I was taking a brief training class in some 3D software, and the bus to the class would take me past St Paul's Cathedral. It was winter, I would sit on the top deck going home, already dark, and watch the lit up dome as we passed.
      This is an unusual card in the project, it is the first to be sent within the UK, and also the first one that is a genuine message to specific peple. In this case, a thank you to the parents of my friend Stewart who hosted us last weekend when we went and spent a lovely afternoon drinking pimms, then tea, eating scones, apple cake, and leaving with a big bag full of zucchini (UK: courgettes) and runner beans.
      I hope they don't mind the obviously aged postcard. I'm sad that the first 'THANKS' stamp was smudged and ruined.