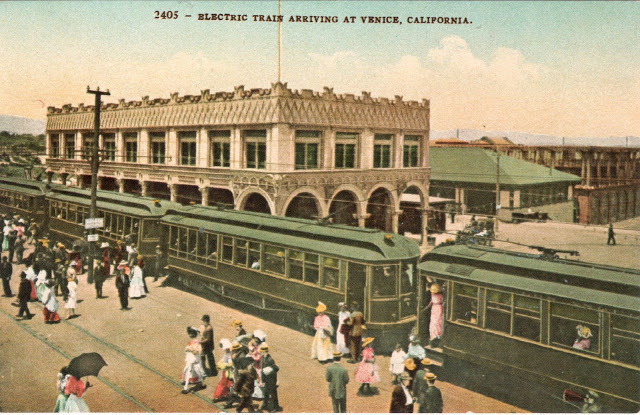 sent from: Newman St, London, UK. destination: Santa Monica, California, USA
   This is one of several retro-styled coloured photographs of Venice in the early 20th century that I've had since the late 90's. It's crazy to think how much it has changed, not least that Los Angeles did an excellent job of wiping out all the trams and streetcards to the Westside that used to run there.
[ long screed about the nature of driving in LA and how it's actually a pretty great place to drive around in removed for excessive soap-box declamations ]
   Make Love Not Clothsim is the first in a new poster project I'm thinking about producing, if I can find the time. Clothsim is short for 'clothing simulation', which is what I am currently being paid to do. It is a specialised task in visual effects that is best described as that of the wardrobe master for the computer generated characters that populate films these days. There aren't too many of us who specialise in this. I spent much of my time at Industrial Light and Magic doing this and loving it, and yet yearning to do other things. I successfully broke those bonds at ILM and elsewhere, but like an ex-con drawn back in for one last job, again I find myself worrying about draping and damping and preroll and all those things I thought I'd left behind me.
This card goes to my uber-talented friend, director, writer and clothsim partner in crime.