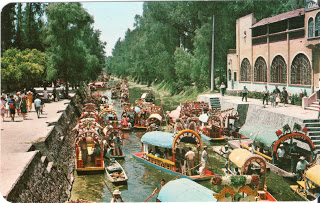 Man On A Missive is a writing project that started on the 1st of August, 2011.
  It is a re-christening of The Postcard Project.
  I have a collection of postcards that goes back twenty or so years. I hadn't collected with any particular idea in mind, just souvenirs of trips taken, cities visited, artwork I liked, and random things that caught my eye. Many of them were tacked to my bedroom wall or office space.
  They have traveled with me across the world and back several times now; it is time to let them go.
  Every day one postcard is sent out into the world.
  The contents of the postcard are a collection of overheard conversations, random thoughts, mini-stories and writing experiments.
  Some of the images may repeat as I have multiple copies but each card is unique.
  Man On A Missive will continue for at least a year, or until I run out of postcards.
  If you receive a postcard, please comment on the relevant blog posting to let me know that you received it.
  If you want a postcard, please send me your address to juanluis [at] juanluis [dot] com.
  When the project is complete, I may ask for the postcards back in order to exhibit them together, but you will then get them when the exhibition concludes.
  I hope you enjoy it.